RoeTest V8.1
Frontplattendesign "C"(onnector) – Minimierung der mechanischen Arbeiten
Front Panel Design "C"(onnector) – Minimizing the mechanical works
Das neue Frontplattendesign - statt Fassungsboxhalter - ein Fassungsboxanschluss. Die Frontplatte goldfarbig-eloxiert:
The new front panel design: instead of the socket box holder - only the socket box connector. The anodized gold-colored front panel:

H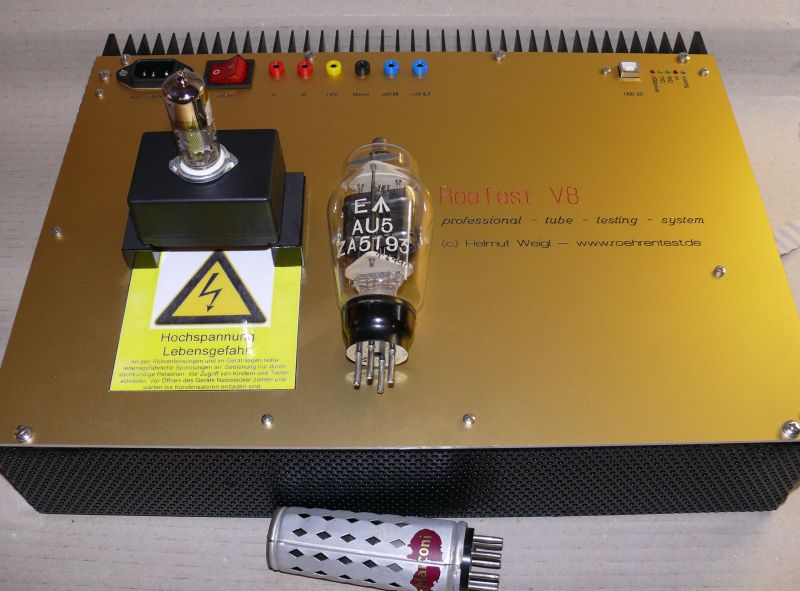 Die neuen Fassungsboxen:

The new socket boxes: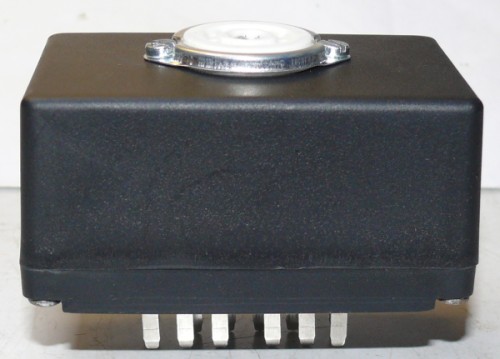 Minimierung der mechanischen Arbeiten:

Es gibt viele gute Elektroniker, welche Schwierigkeiten mit mechanischen Arbeiten haben. Ich habe mir deshalb Gedanken gemacht, wie man die mechanischen Arbeiten auf ein Minimum reduzieren kann.

Die Lösung: Der bisherige Fassungsboxhalter wird weggelassen und stattdessen nur die Buchse herausgeführt.

Vorteile:
Weniger mechanischer Aufwand
mehr professionelles aussehen durch weniger "handgefertigte" Teile
Frontplatte ist etwas günstiger
Die Hauptplatine ist im Bedarfsfalle leichter demontierbar, da der Fassungsboxanschluss nicht abgebaut werden muss

Minimizing the mechanical works:


There are many excellent electronic technicians that have trouble with mechanical works. So I thought about how to reduce the
mechanical works to a minimum.
The Solution: R
emove the currently used socket box holder
and instead just lead through the socket box connector .
Advantages:
less mechanical effort
more professional look due to less "handcrafted" parts
front panel slightly cheaper
main board easier removable when needed; there is no more socket holder that has to be removed first
Vergleich:

Comparison:
Design "A" - alt old

Design "C" - neu new

mit Fassungsboxhalter

with socket box holder


mit Anschlussbuchse


with socket box connector


Fassungsboxhalter entfällt

Socket box holder removed


Abdeckung Fassungsboxanschluss entfällt

Cover of socket box connector removed


Aluwinkel zur Befestigung der Buchse entfällt

Aluminum angle bracket for socket mounting removed


Fassungsboxen: Verwendung des Original Gehäuse- deckels – kein neuer Deckel anzufertigen

Socket boxes:
Now the original case lid is used - no need to make a new lid

Es fallen im neuen Design 'C' fast alle mechanischen Arbeiten weg. Es bleiben:
Gewindelöcher für Kühlkörper bohren
Gehäuse
Fassungsboxen
… und das Ganze zusammenzuschrauben. Damit wird der Aufbau des Geräts auch mechanisch weniger visierten Elektronikern wesentlich erleichtert.

Die Elektronik ist dieselbe wie bisher. Sie können also mit den gleichen Leiterplatten sowohl die Version mit der Frontplatte 'A' als auch der neuen Version 'C' aufbauen.


With the new design 'C' nearly all mechanical works are now ommitted. Remaining works:






… and to screw the whole thing together. This way building the unit has been simplified significantly for the less mechanical experienced electronic technician.





The electonics circuitry remains the same. You can build the unit with the front panel version 'A' as well as with version 'C' using the same circuit board









---

Bauteiledatenbank: components database:

bauteile8.1.zip Bauteilebank RoeTest V8.1 - Stand 11/2015 - download - in leeren Ordner auspacken und 'bauteile.exe' starten.


Components database RoeTest V8.1 - date 11/2015 - download and unzip to an empty folder, then start 'bauteile.exe'





---

Auf meiner Bestellseite können Sie kostenlos und unverbindlich Informationen über die bei mir beziehbaren Komponenten anfordern.

For more informations about ordering of components please goto my ordering page.



---

noch ein paar Bilder

a few pictures more: